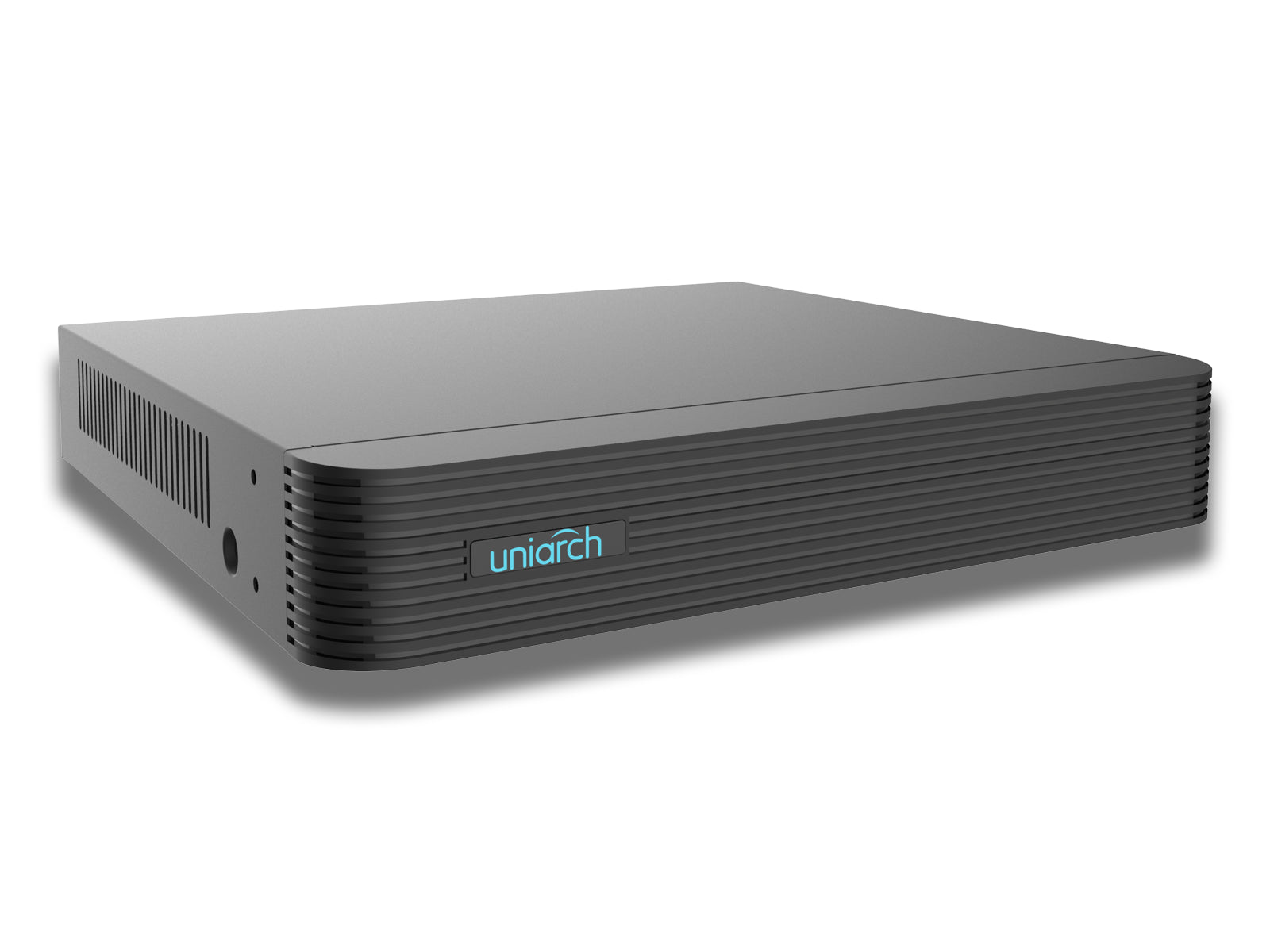 UniArch™ 8 Channel NVR (8MP w/ 8x PoE Ports)
SKU: UNIARCH-NVR-8CHANNEL-8MP
Free Design. Installer help.

We have a dedicated team to Design,install and set up all your CCTV, Networking, Satellite and Aerial needs. Our Teams are based in Ireland & UK. Contact them for a Quote.
High-Resolution Flexibility: The UniArch NVR-108E2-P8 supports resolutions up to 4K (8 megapixels) while offering the flexibility to choose lower resolutions, accommodating various surveillance needs and saving storage space.
Wide Camera Compatibility: This NVR is compatible with IP cameras up to 8 megapixels, allowing you to choose from a wide range of cameras to fit your surveillance requirements, whether you need superior image clarity or budget-friendly options.
User-Friendly Setup: UniArch simplifies the setup process with a P2P App, eliminating the need for a static IP address or complex port forwarding. The menu system and apps are consistent across their NVR lineup, ensuring an easy and consistent user experience.
Remote Accessibility: With support for networking, mobile phone, and PC viewing, you can conveniently access your surveillance system from anywhere, keeping an eye on your property or business remotely.
Efficient Installation: The integrated Power over Ethernet (PoE) feature allows you to utilize existing Ethernet cables, reducing installation complexity and costs. Plus, with up to 6TB of storage capacity, you can store weeks of footage, ensuring your critical recordings are safe and accessible when needed.
What's in the box
UniArch 8 Channel NVR (Model NVR-108E2-P8): The main unit responsible for recording and managing surveillance footage.
Power Adapter: A power supply unit to provide electricity to the NVR.
User Manual: An instruction manual or user guide that provides detailed information on setting up and using the NVR.
SATA Data Cable: This cable is used to connect the SATA hard drive (not included) to the NVR for storage.
Ethernet Cable: An Ethernet cable to connect the NVR to your local network for remote access and camera connectivity.
Mounting Screws: These screws may be included to secure the NVR in place if you choose to mount it.
About
The UniArch NVR-108E2-P8 is a versatile 8 Channel Network Video Recorder (NVR) designed to meet both commercial and domestic surveillance needs. With support for resolutions up to 4K (8 megapixels), it delivers stunning image quality for those situations where high-definition playback is crucial.
This NVR offers flexibility with various resolution options, from 8MP down to 960H, allowing you to customize your recording settings based on your specific requirements. Whether you need sharp 4K clarity or want to conserve storage space with lower resolutions, this NVR has you covered.
Its compatibility with IP cameras up to 8 megapixels ensures that you can use a wide range of cameras from UniArch and other brands, providing flexibility in camera selection.
One standout feature is the user-friendly setup. UniArch includes a P2P App, making it incredibly easy to set up without the need for a static IP address or complex port forwarding. This user-friendly approach extends to its menu system and apps, ensuring a smooth user experience across their NVR lineup, whether you opt for 4, 8, or 16 channels.
The NVR also supports networking, allowing you to access your surveillance system remotely through mobile phones and PCs. It features HDMI and VGA outputs for convenient display options.
An integrated Power over Ethernet (PoE) feature simplifies installation by utilizing existing Ethernet cables, eliminating the need for additional RG59 cables. The NVR can accommodate up to a 6TB SATA hard drive, offering ample storage capacity. In your scenario, with an 8TB drive installed and recording at 4K resolution with four cameras at 30fps in 24/7 mode, you can store approximately 20 days of recordings.
With CE certification and the reputation of UniArch as a market leader for NVRs known for their range, specifications, and competitive pricing, this 8-Channel NVR is a reliable choice for those seeking high-quality surveillance solutions.