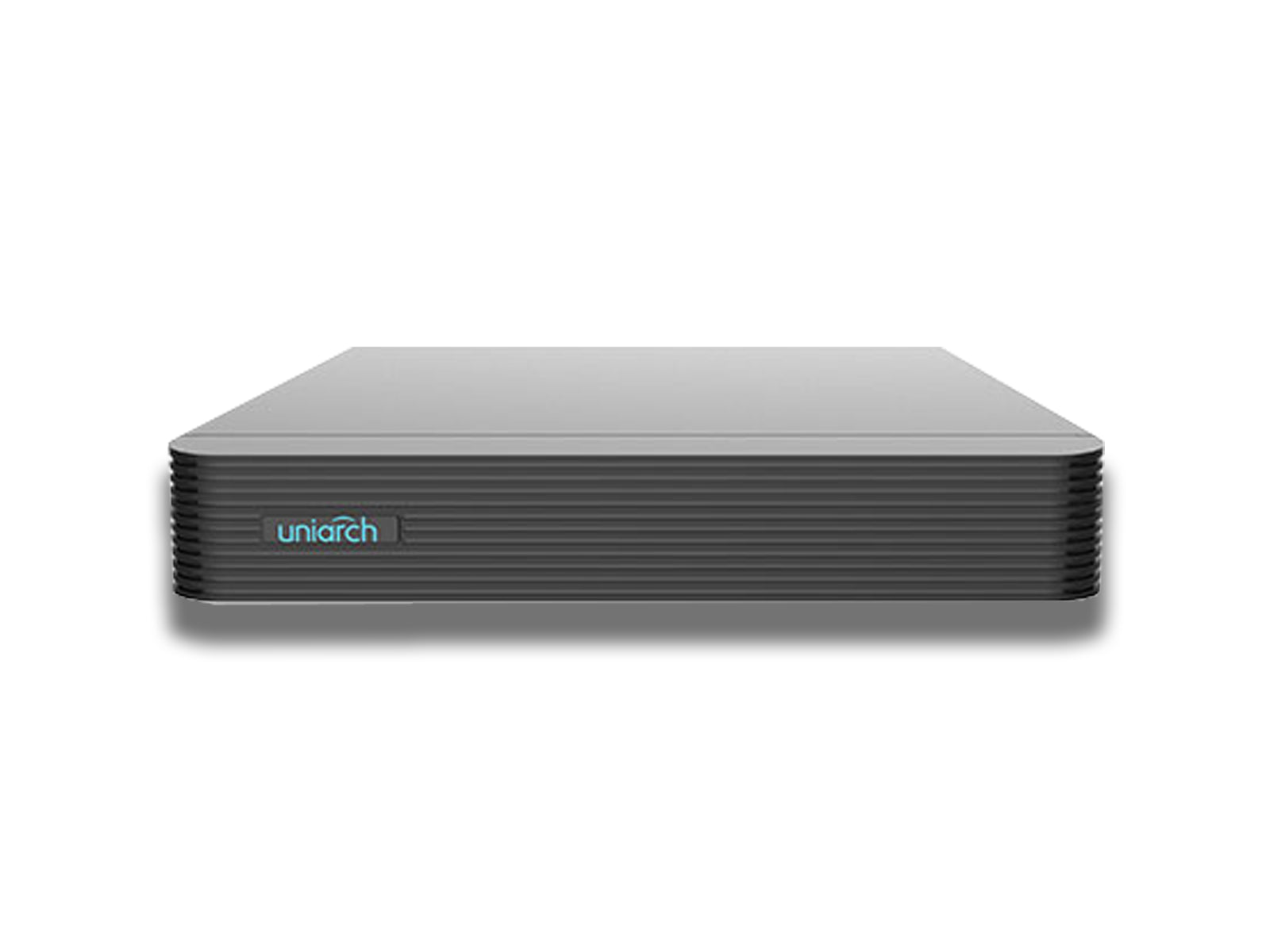 UniArch™ 8 Camera DVR (5MP, TVI / CVI / AHD / CVBS)
SKU: UNIARCH-DVR-8CHANNEL-5MP
Free Design. Installer help.

We have a dedicated team to Design,install and set up all your CCTV, Networking, Satellite and Aerial needs. Our Teams are based in Ireland & UK. Contact them for a Quote.
Multi-Technology Support: The UniArch XVR-108G3 accommodates AHD, TVI, CVI, CVBS, and IP cameras, offering compatibility with various surveillance setups.
High-Quality Recording: Capture crisp 5-megapixel video at up to 30fps, ensuring detailed and smooth surveillance footage.
User-Friendly Setup: Enjoy hassle-free installation with the included P2P app, eliminating the need for complex networking configurations.
Remote Access: Monitor your property remotely from mobile devices and PCs, providing peace of mind wherever you are.
Reliable and Affordable: UniArch's reputation for reliability, coupled with competitive pricing, makes this DVR a smart choice for diverse surveillance needs.
What's in the box
UniArch XVR-108G3 DVR Unit: The central recording unit with multiple video and audio input channels.
Power Adapter: A power supply unit (12V DC) to provide power to the DVR.
User Manual: Detailed instructions and documentation for setting up and operating the DVR.
Mounting Hardware: Depending on the packaging, there may be mounting brackets or screws for securing the DVR unit in place.
About
The UniArch XVR-108G3 is a versatile 8-camera Digital Video Recorder (DVR) designed for professional-grade surveillance. Supporting AHD, TVI, CVI, CVBS, and IP camera technologies, it caters to diverse surveillance needs. With impressive 5-megapixel recording capabilities at up to 30fps, it ensures high-quality, detailed footage.
Setting up this DVR is a breeze, thanks to the included P2P app, eliminating complex networking hassles. Users can remotely monitor their premises from mobile devices and PCs, enhancing security and convenience.
UniArch's reputation for reliability and affordability shines through, making this DVR a preferred choice for small businesses, farms, and domestic applications. It combines top-tier performance, easy setup, and competitive pricing, ensuring peace of mind and value for money in any surveillance setup. With the UniArch XVR-108G3, you get cutting-edge surveillance technology at your fingertips.