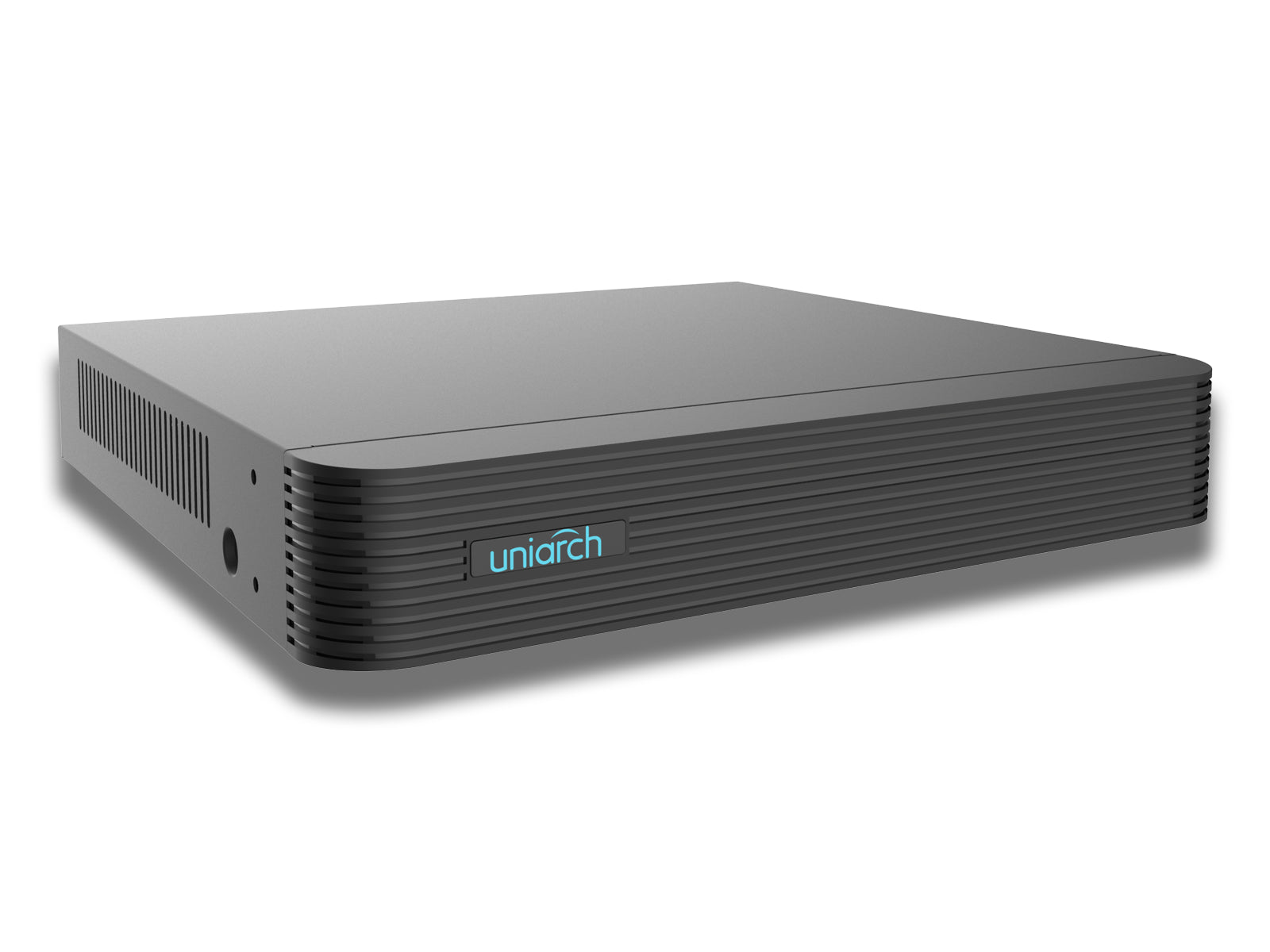 UniArch™ 4 Channel NVR (8MP w/ 4x PoE Ports)
SKU: UNIARCH-NVR-4CHANNEL-8MP
Free Design. Installer help.

We have a dedicated team to Design,install and set up all your CCTV, Networking, Satellite and Aerial needs. Our Teams are based in Ireland & UK. Contact them for a Quote.
High-Quality Resolution: Capture sharp 4K (8MP) video at 30fps for crystal-clear surveillance footage.
Flexible Storage: Supports up to 8TB of storage, ensuring 20 days of continuous 4K recording.
Easy Setup: No static IP or port forwarding is required; use the user-friendly UniArch P2P app.
Compatibility: Works seamlessly with UniArch IP cameras, offering incredible picture quality.
Versatile Connectivity: Utilize existing Ethernet cables, and access footage on mobile devices and PCs.
What's in the box
UniArch 4-Channel NVR (Model: NVR-104E-P4)
Power Adapter for the NVR
User Manual and Quick Start Guide
Ethernet Cables
Screws and Mounting Hardware (for securing the NVR)
About
The UniArch NVR-104E-P4 is a comprehensive video surveillance solution ideal for small to medium-sized businesses and homes. With support for up to 4 IP cameras and a maximum 4K resolution, it delivers exceptional picture quality, capturing every detail with clarity. Its flexible storage options, accommodating up to an 8TB hard drive, provide approximately 20 days of continuous recording at 30fps, ensuring you never miss a moment.
Setting up this NVR is hassle-free, thanks to the user-friendly UniArch P2P app. You won't need to deal with complex configurations like static IP or port forwarding. The package typically includes all the essentials for installation, from Ethernet cables to mounting hardware.
What sets UniArch apart is its commitment to compatibility and ease of use. This NVR seamlessly integrates with UniArch IP cameras, offering a seamless ecosystem for your security needs. Whether you're monitoring your premises via mobile devices or PC, it caters to your convenience. Additionally, it supports IP PTZ cameras, giving you control over the camera's direction and zoom.
The inclusion of both HDMI and VGA outputs makes it adaptable to a variety of display devices. Moreover, it can utilize your existing Ethernet infrastructure, eliminating the need for additional RG59 cables. UniArch's reputation as a market leader is well-earned, with a range of NVRs, identical menus, setup processes, and apps across their lineup.
In summary, the UniArch NVR-104E-P4 offers remarkable performance, ease of installation, and a robust feature set, making it an excellent choice for those seeking top-tier surveillance solutions with 4K quality playback.