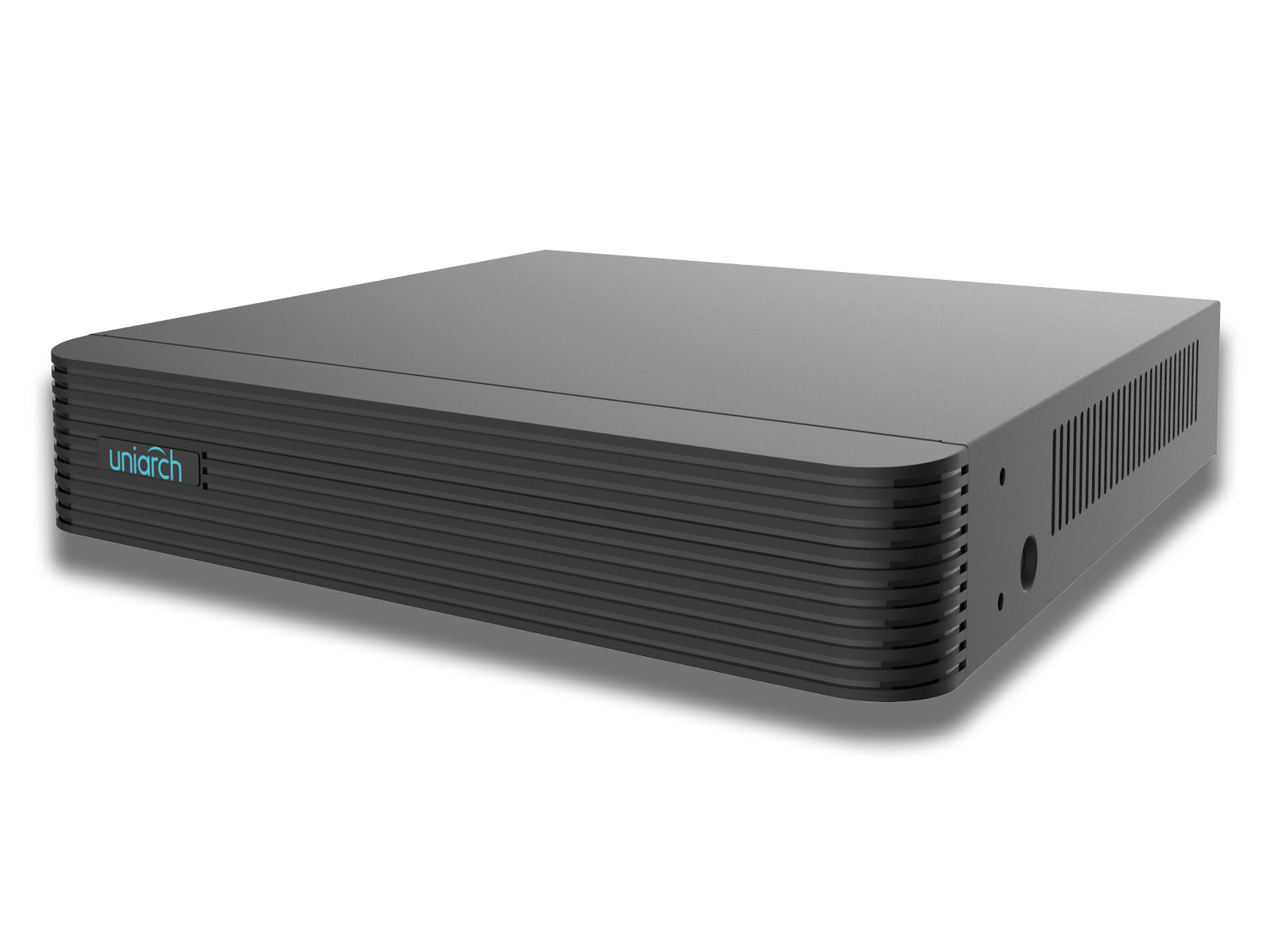 UniArch™ 16 Channel DVR (5MP, TVI / CVI / AHD / CVBS)
SKU: UNIARCH-DVR-16CHANNEL-5MP
Free Design. Installer help.

We have a dedicated team to Design,install and set up all your CCTV, Networking, Satellite and Aerial needs. Our Teams are based in Ireland & UK. Contact them for a Quote.
High-Quality Video Recording: The UniArch XVR-116G3 offers impressive video recording capabilities with support for multiple camera technologies, including AHD, TVI, CVI, CVBS, and IP cameras, ensuring high-quality video capture with resolutions up to 5 megapixels.
Flexible Storage Options: With a capacity to accommodate up to an 8TB hard drive, this DVR provides ample storage for your surveillance footage. The H.265 and H.264 compression standards further optimize storage efficiency, allowing you to store a significant amount of video data.
User-Friendly and Reliable: UniArch is recognized alongside Dahua and Hikvision as a market leader in professional DVRs. The XVR-116G3 is known for its reliability, ease of use, and ability to support up to 16 CCTV cameras. It also comes with a P2P app for easy setup, eliminating the need for a static IP or port forwarding.
Versatile and Cost-Effective: This 16-channel DVR is suitable for various applications, including small businesses, farms, and residential setups. It offers the advantage of recording in 5 megapixels, delivering superior image quality compared to traditional 1080p Full HD. Additionally, its competitive pricing makes it an attractive choice for those seeking high-quality surveillance on a budget.
Hybrid and Expandable: The XVR-116G3 is a hybrid DVR, which means it can seamlessly integrate with a variety of camera technologies, making it versatile for different surveillance setups. It also includes features such as HDMI and VGA outputs, networking capabilities, and mobile phone, and PC viewing support, enhancing its overall functionality. The inclusion of an RS485 port adds further versatility for specialized tasks.
What's in the box
UniArch XVR-116G3 DVR Unit: This is the main DVR unit that will be responsible for recording and managing your surveillance footage.
Power Adapter: A power adapter is provided to supply electricity to the DVR unit.
User Manual: The user manual provides instructions on how to set up and use the DVR, including guidance on installation, configuration, and troubleshooting.
Screws and Mounting Hardware: Some packages include screws and mounting hardware to help you install the DVR securely in your desired location.
About
The UniArch XVR-116G3 is a top-quality 16-channel DVR, ideal for various applications. It supports multiple camera technologies, records in up to 5MP resolution, and offers reliable, user-friendly operation. With ample storage options, competitive pricing, and versatile features, including mobile and PC viewing, this DVR ensures high-quality surveillance without the need for a complex setup. It's a cost-effective choice for those seeking exceptional picture quality and flexibility in their security system.