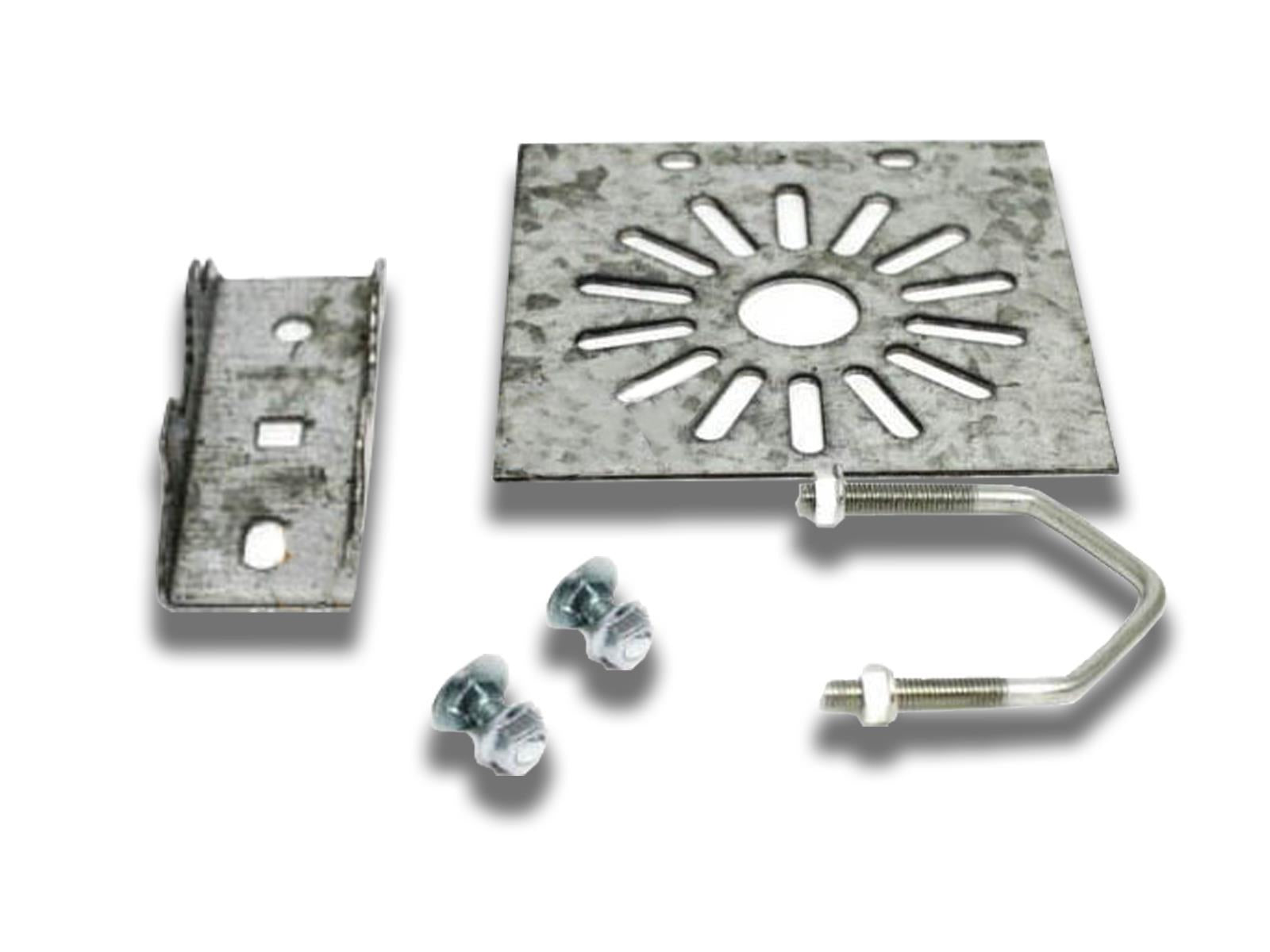 CCTV Camera Bracket
SKU: CCTV-CAMERA-BRACKET
Free Design. Installer help.

We have a dedicated team to Design,install and set up all your CCTV, Networking, Satellite and Aerial needs. Our Teams are based in Ireland & UK. Contact them for a Quote.
Versatile Mounting: Securely attach dome, turret, or bullet CCTV cameras to various poles and masts.
Flexible Design: A slotted base plate allows customized hole placements, ensuring compatibility with different camera models.
Complete Kit: Comes with essential components including slotted base plate, U-bolt, pole clamp, and steel bolts & nuts.
Lightweight and Durable: Weighing just 31g, the bracket is lightweight yet sturdy, ensuring reliable camera installation.
PTZ Exclusion: Not suitable for PTZ cameras, as most PTZ models come with their own specialized bracketry.
What's in the box
Slotted Base Plate: Allows for flexible hole placements.
Small U Bolt: Used for securing the bracket to the camera.
Pole Clamp: Enables attachment to poles and masts.
Steel Bolts & Nuts (2 each): Provides additional support for a secure installation.
About
The Universal CCTV Camera Bracket is a comprehensive solution for securely mounting dome, turret, or bullet CCTV cameras on poles and masts. Inside the box, you'll find essential components designed for easy and versatile installation.
The slotted base plate is a key feature, allowing for flexible hole placements. This adaptability ensures compatibility with various camera models, accommodating unique configurations with ease. The small U bolt included in the package is used to fasten the bracket securely to the camera, providing a stable connection.
For attaching the bracket to poles, the package contains a pole clamp. This component is crucial for stable mounting, ensuring the camera remains fixed in the desired position. Additionally, two steel bolts and nuts are provided, adding extra support to the installation. These durable steel components enhance the bracket's stability, making it suitable for long-term use in various environments.
The bracket itself is lightweight, weighing just 31g, which simplifies the installation process without compromising on durability. Its robust construction ensures the safety and security of your CCTV camera, providing peace of mind knowing your surveillance equipment is reliably mounted.
It's important to note that this universal bracket is versatile and compatible with different types of CCTV cameras, including dome, turret, and bullet models. However, it is not suitable for PTZ (Pan-Tilt-Zoom) cameras, as PTZ cameras generally come with their own specialized bracketry.
Whether you're setting up a security system for your home or business, this Universal CCTV Camera Bracket offers a convenient and reliable solution. Its flexibility, ease of installation, and compatibility with various camera types make it an essential accessory for any CCTV installation project. With the components provided in the box, you can achieve a secure and customized mounting solution, ensuring optimal surveillance coverage and peace of mind.