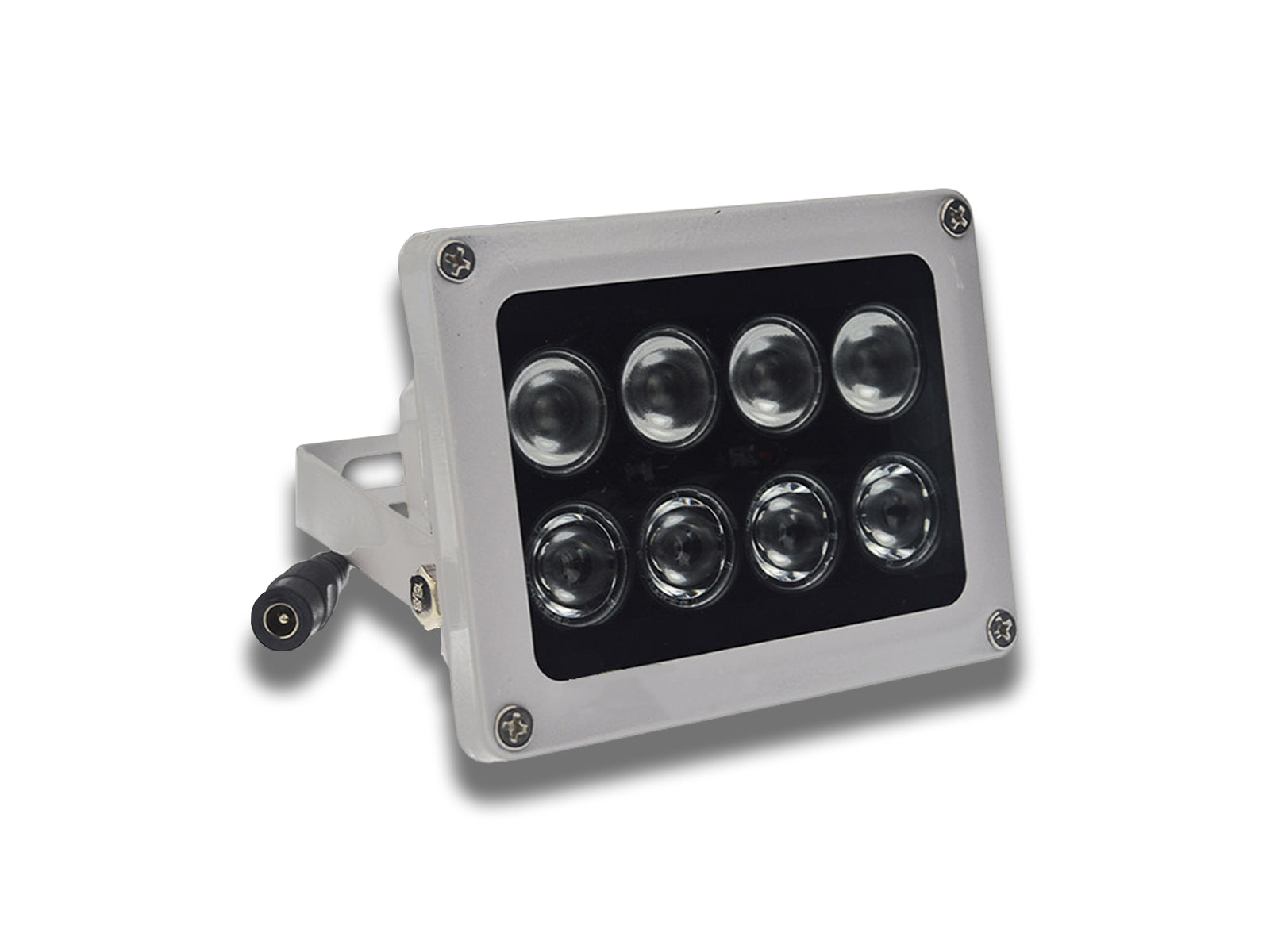 50m IR Illuminator Lamp
SKU: 50M-IR-ILLUMINATOR
Free Design. Installer help.

We have a dedicated team to Design,install and set up all your CCTV, Networking, Satellite and Aerial needs. Our Teams are based in Ireland & UK. Contact them for a Quote.
Enhanced Night Vision: Illuminate dark areas up to 50m with 8 high-power IR LEDs, ensuring crystal-clear footage even in pitch-black conditions.
Weatherproof Durability: Built with an IP65 weatherproof rating, the aluminium body and hardened glass provide robust protection against the elements, ensuring long-lasting performance in indoor and outdoor environments.
Cost-Effective Security Solution: Save time and money by avoiding the need for additional mains wiring. The IR illuminator eliminates blind spots without requiring constant lighting, making it a practical and economical choice for any surveillance setup.
Automatic Dusk Sensor: Featuring an automatic dusk sensor, this illuminator activates only in low-light or dark conditions. It intelligently conserves energy while providing the necessary illumination for your CCTV cameras, enhancing efficiency and convenience.
Versatile Application: Ideal for homes, businesses, and various outdoor setups, this IR illuminator is perfect for improving the night vision capabilities of CCTV cameras. It's a versatile solution for enhancing security, whether in calving sheds, residential properties, or commercial establishments, ensuring comprehensive surveillance coverage.
What's in the box
IR Illuminator Unit: The main device with 8 high-power IR LEDs, enclosed in a weatherproof aluminium casing with hardened glass.
Instruction Manual: A user manual providing setup instructions, usage guidelines, and safety information.
Mounting Hardware: Brackets, screws, and other necessary tools for installing the IR illuminator securely in the desired location.
Dusk Sensor: An automatic dusk sensor, if it is not already built into the illuminator, which activates the device in low-light conditions.
About
Unbox enhanced surveillance capabilities with our IR Illuminator kit. Inside, discover a durable aluminium unit housing 8 high-power IR LEDs, designed for both indoor and outdoor use. With a weatherproof rating of IP65 and hardened glass, it withstands diverse environmental conditions, ensuring long-term reliability. The automatic dusk sensor activates the illuminator in low light, extending your CCTV camera's reach up to 50 meters. Save on costs and installation time by eliminating blind spots without the need for constant lighting, making it a practical choice for homes, businesses, and outdoor setups. Mounting hardware and a comprehensive manual are included for easy installation, empowering you with a versatile and cost-effective solution for superior night vision surveillance.